What better way to celebrate a Tuesday than to make a white chocolate mango cheesecake?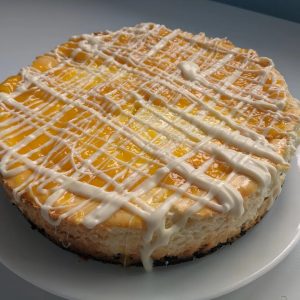 White Chocolate Mango Cheesecake
White chocolate and mango are a classic combination that is fantastic on cheesecake.
Equipment
1 hand mixer

1 springform pan
Ingredients
1.25

cups

chocolate or graham crumbs

0.25

cups

melted unsalted butter

4

blocks (250gm each)

softened cream cheese

Blocks, not the spreadable stuff in a tub.

1

cup

white sugar

1

tbsp

vanilla extract

1

cup

sour cream

can substitute plain or vanilla Greek yogurt

4

whole

eggs

room temperature

0.5

cup

white chocolate chips

1

tsp

coconut oil

0.5

cup

mango

can use frozen

1

tbsp

sugar or maple syrup
Instructions
In a medium bowl, mix melted butter with chocolate or graham crumbs until evenly moist. Press into springform pan. Wet your fingers and press it down to make it even. Bake 10 minutes.

Meanwhile in a large bowl, use a hand mixer and cream the cream cheese with the sugar, then add flour and vanilla and mix for another 30 seconds.

Still using the hand mixer, add in the sour cream and mix until just combined. Do not over mix.

Use the hand mixer and mix 1 egg at at into the mixture. Only run the mixer for 5 seconds or so. Do not over mix.

Pour mixture on top of the crust and bake for about an hour to an hour and 20 minutes, depending on the size of your pan. Cheesecake will be done when it is browned on top and barely jiggles when you nudge it. (Extra filling can be stored in the fridge for a day or two, or made into muffin tin cheesecakes. Just make a bit more crumbs, top with the filling and bake for about 20-30 minutes)

When done, let cool to room temperature then wrap in saran wrap and put in the fridge for 8 hours (or overnight)

To make the mango sauce, combine mango and sugar in a pot and turn it on to medium heat. Cook it for about 10 minutes and use a potato masher to break it up. Once it is thick and looks like sauce, turn it off and set aside.

Run a knife around the edge of the pan and pop off the sides. Place cheesecake on a plate then pour the mango sauce on top.

Combine white chocolate chips and coconut oil in a bowl. Microwave for about 20 seconds and stir. Zap it for another 10 seconds if it isn't quite there yet. Once it is melted, drizzle it immediately on top of the mango layer.

If mango sauce has cooled, serve immediately. Otherwise put it back in the fridge for 20 minutes or so.
Notes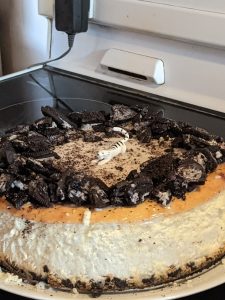 Instead of mango and white chocolate, another great option is cookies and cream! Top with a vanilla glaze and crushed Oreo cookies. To make vanilla glaze, combine about half a cup of icing sugar with 1 tsp vanilla extract and about 1 tsp milk. Stir. If it is too thin, add more sugar. Too thick? Add tiny amounts of milk (like 1/4 tsp at a a time) until it is perfect-o). 
Using Greek yogurt will produce a slightly denser cheesecake. Sour cream is the preferred choice. 
Room temperature ingredients (eggs and cream cheese) will help it bake properly and be much easier to mix.