Well, I had to try it. I've made the sauce from scratch, so next was to try the noodles. I have seen videos here and there on how homemade pasta is so awesome, so I wanted to try it.

I found a very basic recipe (flour, salt, eggs, water) and gave it a shot! It was pretty straight-forward. Mix dough until it is like playdough, then wrap it in saran wrap and let it sit on the counter for 45 minutes. Roll it out and cut your noodle shapes, then boil them for about 5 minutes depending on how thick you cut them.
I wasn't sure how thin to roll out the dough. In hindsight, I should have rolled it more because they were quite thick.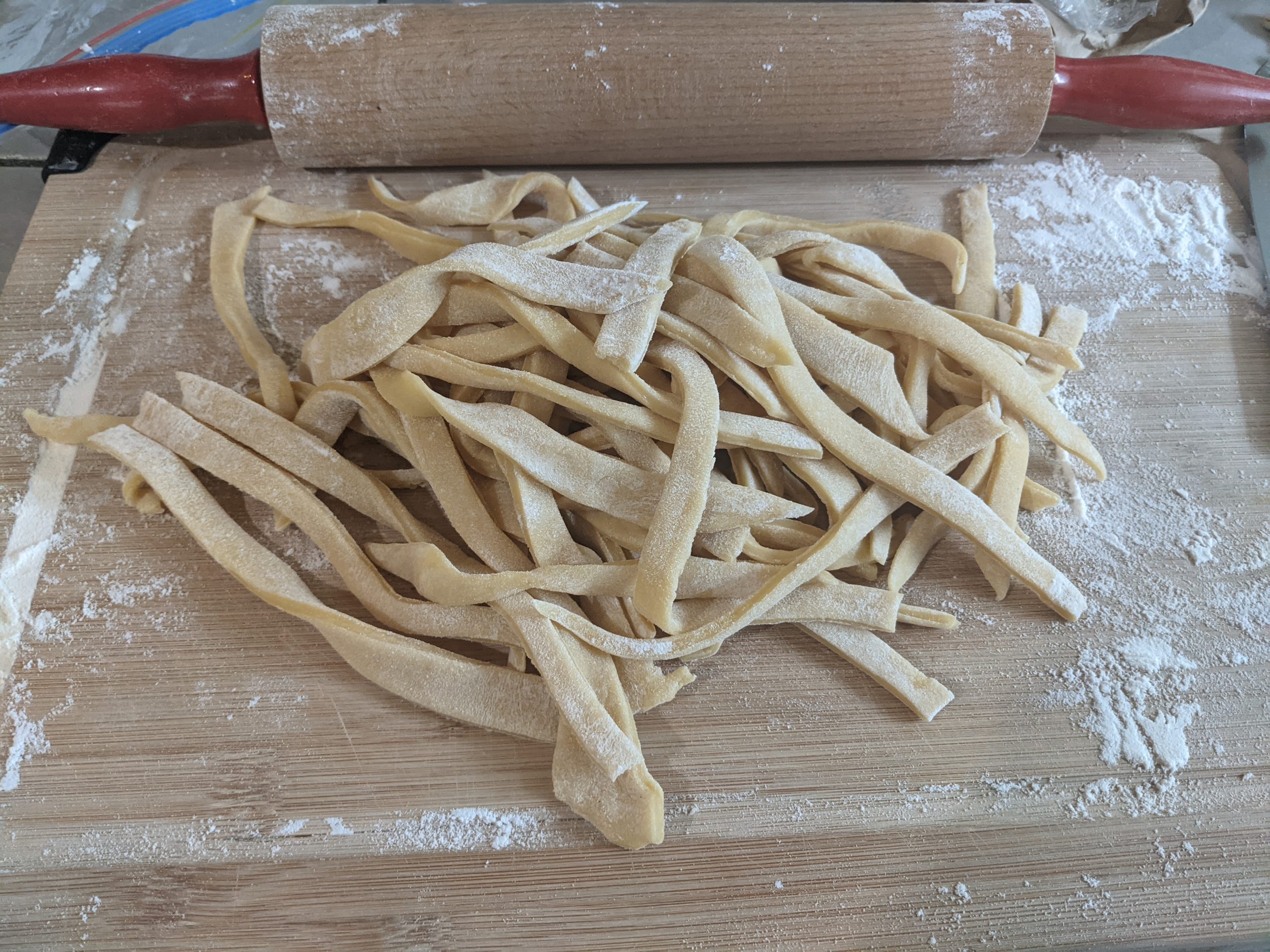 Once the noodles hit the water, they expanded even more! So yes, they do grow quite a bit once they hit the boiling water.
After they boiled for several minutes, I tossed them with a homemade mushroom alfredo sauce and dug in.
Family approved!
Honestly, this wasn't that difficult. If you can make pizza dough, you can make noodles. I had no equipment like fancy pasta rollers or Kitchenaid mixers. I had a bowl, a wooden spoon, a rolling pin, my hands, and Shane's hands when mine got too sore! He kneaded the dough and did a fabulous job. 🙂
These noodles were different from what I am used to. They remind me of spaetzle but I also think they would be killer in an Asian noodle dish. I was worried that there weren't enough noodles to feed my family of four, but thankfully I made a rich sauce so our bellies filled up in no time. The texture of the noodles were a bit chewy and dense. It definitely had some personality but in a good way. I think making them a bit thinner would make the dough stretch farther, cook faster, and not feel so heavy when paired with a heavy sauce.
Note: Not all ingredients were "from scratch"…. I did use leftover rotisserie chicken after all! Let's be real, we can only do so much "from scratch"!

Noodle recipe below. 🙂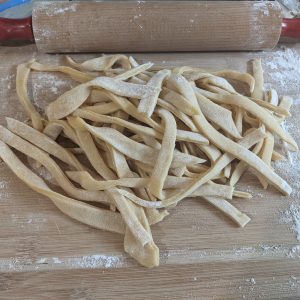 Egg Noodles
A basic recipe for egg noodles.
Ingredients
2

cups

all purpose white flour

3

whole

eggs

0.5

tsp

salt

1

tbsp

water

optional
Instructions
Begin by mixing your flour and salt together.

Add in eggs and mix with your hands. Keep mixing until dough is no longer sticky. Add up to 1 tbsp of water if needed. Dough should be smooth and not sticky.

Knead dough for a few minutes, then wrap in saran wrap and leave it on the counter at room temperature for about 45 minutes to rest.

Roll out dough onto a floured surface. I like doing 1/4 of the dough at a time because my rolling surface is small. Cut out strips for noodles or other shapes depending on your preference. Can lightly dust pieces in flour to prevent sticking and place on a clean kitchen towel until you have gone through all the dough.

Boil noodles for about 5 minutes or until done. Drain.
Notes
This batch is on the smaller side. It can serve 4 people a moderate portion, but if you feel like hogging out then this recipe is more suitable for 2 people. 
2 cups of pasta sauce was more than enough for this batch of noodles. 
Some recipes call for adding butter or oil into the noodles. This sounds fantastic but I have not tried it. I have only tested this basic version.