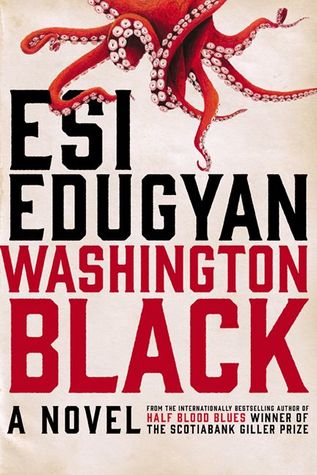 Washington Black is an eleven-year-old field slave who knows no other life than the Barbados sugar plantation where he was born. When his master's eccentric brother chooses him to be his manservant, Wash is terrified of the cruelties he is certain await him. But Christopher Wilde, or "Titch," is a naturalist, explorer, scientist, inventor, and abolitionist. He initiates Wash into a world where a flying machine can carry a man across the sky; where two…
Back around 2012 or so, I went to an author event where Esi Edugyan read an excerpt from her other book, Half Blood Blues. Her writing is something special. It flows seamlessly and absorbs you into the story. I have been looking forward to reading her new book, Washington Black, for quite some time. It was worth the wait.
In a nutshell, this book is about a slave named Washington Black that explores what the concept of freedom really means. How do you define it? Who gets the privilege of having freedom? These questions get explored through a literal worldwide journey of self discovery.
The journey is where this book shines. Step by step, we see the brutal reality of being a slave on a sugar plantation and what it takes to have a glimmer of hope to escape that awful life. The descriptions are fluid, engaging, and empathetic. I really enjoyed reading this book. At times the continuation of the plot seemed a bit too convenient and far-fetched, but I went along with it anyways.
Initially, I did feel the ending was a bit unsatisfactory. I had questions I still wanted answered and I did not get that closure I hoped for. But in a tale of slavery and freedom, is there ever really a true ending? The fact I didn't get my answers meant that I expressed it to my boyfriend, prolonging the discussion of the book's themes and values. So in hindsight, the unsatisfactory ending was in fact satisfactory.
That might be why this book won the Giller Prize. If you read it just for entertainment, it is a good read but can be forgettable. If you start to tear away the layers, piece by piece, then more questions arise that don't necessarily have direct answers. Was Titch a true friend to Wash, or was he just acting because he happened to be the white guy in power and felt bad about it? This adds more depth to the story and makes it more of a conversation piece. The plot is just the backdrop for the real questions waiting for book clubs to discuss.
I am looking forward to more books by this author if she decides to continue writing. There is something special about how she places the words to the paper that really resonates with me. If you go in understanding that the plot isn't the focal point of the story, you may feel you get more out of it that way.