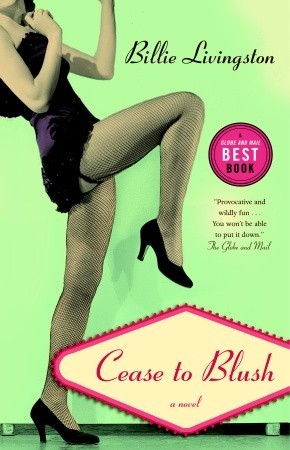 Cease to Blush drives the bumpy road from the burlesque stages of Rat Pack Vegas to the bedroom Internet porn business, exploring just how far women have really come. In Vivian, Livingston has created the perfect character through which to explore what it means to be an independent woman today; with Celia/Josie, it's clear that things weren't so cut and dry in her day either. Though Celia's story is told vividly here, its accuracy is impossible…
I didn't know what to expect from this one. I got it from a mystery grab bag at a book sale, so I gave it a shot. At first, I was put off by the feminist-nazi feel in the beginning, but once I realized the main character opposed it, I gave it a fair shot.
The story itself was decent. Some characters I did not enjoy reading about (Frank) and parts of the story did get a little bit confusing. The book is about a woman trying to uncover her mother's life before becoming a mother. The contrast is huge, so it drives the main character Vivian to keep on trying to learn more. The confusing parts came where Vivian's life and segments of her mother's past seemed to blend. It almost felt like she was possessed and was reliving these memories. When it first happened, it caught me off guard. It makes sense for Vivian to imagine what it might have been like, but these segments seemed very factual so it felt a bit off to me.
When the book ended, I didn't expect it to end. My eye went to the next page and found the "thank you" blurb from the author. I reflected on the ending and it seemed to fall short for me. It works, but it also felt rushed.
It was interesting to read a book based in Vancouver, but it definitely had that liberal edge to it that this area is so keen on hounding to death. I experience enough of that in my life, so I wasn't too excited to read about it as well. However, if you live somewhere else, this book may be enough of a contrast to your own life that you could pick up a thing or two and find value in it. For me, it was just another case of a far-left society that can't seem to do anything right.
So although the book isn't really for me, it wasn't a bad book. It was decently written and kept my interest most of the time. I think it was just "okay" and I am okay with that.