Warm, comforting dahl. The humble lentil does not get enough credit! This creamy bowl of Indian lentils will make anyone's belly happy. Don't let the lack of meat deter you – there is a ton of flavour packed into this curry!
Health Benefits of Lentils
Lentils are a great health food. They are packed with fibre, protein, potassium, antioxidants, and so much more. Eating lentils as part of your diet will help provide many health benefits and as a plus, you can feed a crowd for very little money.
One cup of cooked lentils boosts the following nutrition profile:

Calories: 230
Carbs: 39.9 grams
Protein: 17.9 grams
Fat: 0.8 grams
Fiber: 15.6 grams
Iron: 37% of the DV
Magnesium: 17% of the DV

Plus a ton of B vitamins, minerals, and antioxidants.
Adding lentils to your diet is a win-win situation for your health. Even when combined with something high in fat, like coconut milk, this dish is still a nutritional powerhouse. Plus, the aromatic curry is a great way to ease into trying the humble lentil.

Check out the recipe below, plus my video tutorial to see just how easy and laid back it is to make this yummy dish!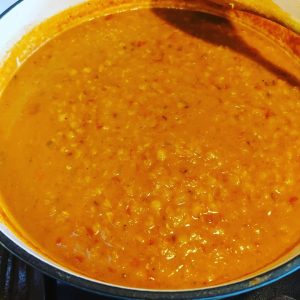 Red Lentil Dahl
A casual way to create this Indian classic, red lentil dahl.
Ingredients
400

grams

red lentils, dry

1

whole

onion, diced

1

clove

garlic, minced

1

can (796 mL)

diced tomatoes with juice

2

cans (400 mL each)

coconut milk

5

whole

cloves

4

whole

green cardamon

1

whole

bay leaf

0.5

tbsp

whole cumin seeds

1/2

tsp

cinnamon

1-2

tbsp

garam masala

1

tbsp

curry powder

1

tsp

cayenne powder

optional, adds heat!

1/2

tsp

salt and pepper

3

cups

chicken stock

to cover and cook the lentils. May need a bit more to cover them completely. Use low sodium to control the salt, or replace with water.

1

tbsp

sugar
Instructions
Drain and rinse your lentils several times. The water will be cloudy, just do it a few times until it is mostly clear.

Place lentils in a medium pot and cover with chicken broth. Bring to a hard simmer. Stir occasionally and skim off foam until lentils are cooked. Set aside.

In a large pot, melt some oil on med-low heat, and add in the bay leaf, cinnamon, cumin, cloves, cardamon, and about 1 tbsp curry powder. Stir until fragrant, about 1 minute.

Add diced onion and stir. Cook for a few minutes, stirring occasionally, until onions are softened. You may need to add a bit more oil to keep the spices from burning.

Add garlic, stir and cook for about 30 seconds, then add in the can of tomatoes. When the lentils are done, add them along with any remaining liquid in the pot. Turn up the heat to medium.

Add the remaining ingredients and let it simmer until the coconut milk has melted. Wait about 5 minutes and taste. Adjust seasonings to your liking.
Notes
This is a very easy-going recipe. Don't let the list of spices worry you! Ground spices can be substituted for whole spices. Instead of whole spices, use about 1 tsp of whatever ground spice you have, then adjust at the end if you feel there needs to be more. 
This dish is also fantastic with chopped cilantro stirred in. 
We love to serve it with mango chutney and aloo kulcha (naan bread with samosa filling inside!). 
Have you ever made dahl? What about other types of Indian food? Let us know in the comments below!